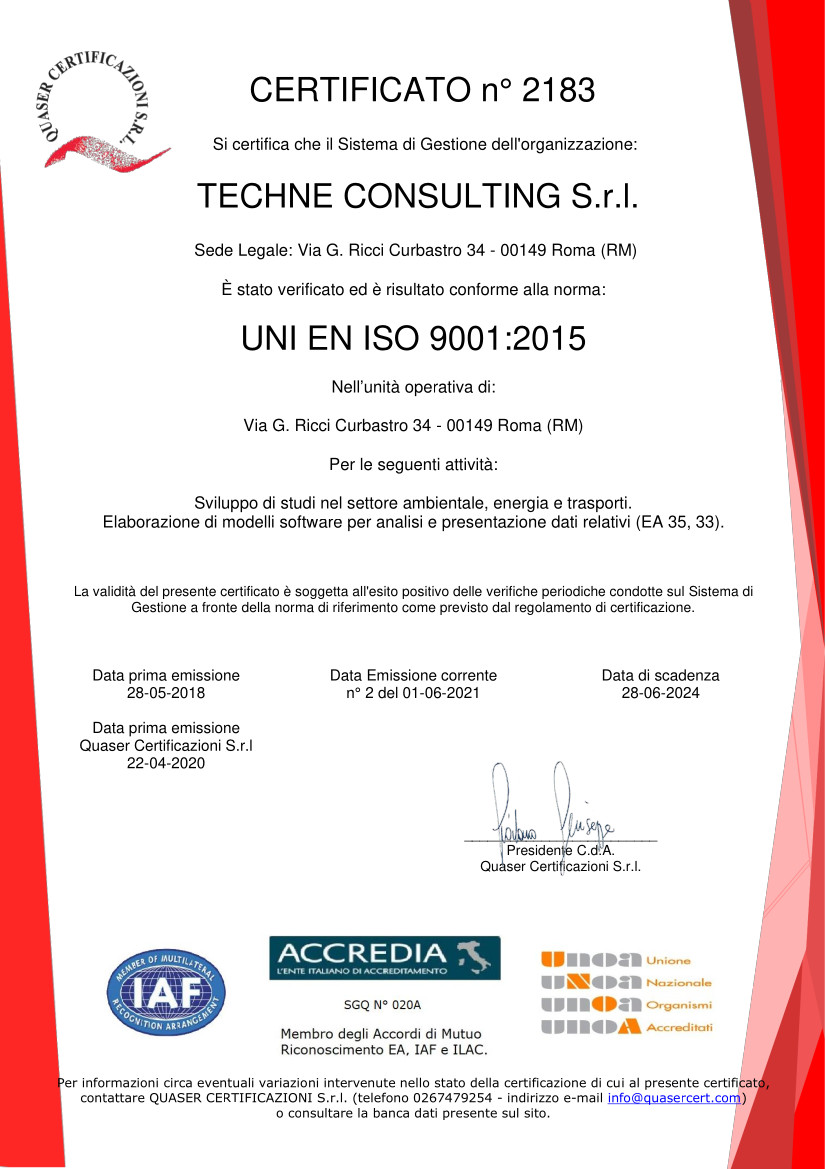 In the course of its work Techne Consulting has developed its own system of quality management. In 2000 the Company obtained the DNV certification UNI EN ISO 9001:1994 "Production of studies in the environmental, energy and transport sector. Software modelling for related data analysis and presentation", the current certificate UNI EN ISO 9001:2000 was obtained in 2003 and  the new certification according to the norms UNI EN ISO 9001:2008 was achieved.  In 2018 the certificate UNI EN ISO 9001:2015 was obtained  from Lloyd's Register Quality Assurance Italy.  In 2020 the certificate UNI EN ISO 9001:2015 was obtained from Quaser Certificazioni S.r.l.  The certificate was renewed in 2021.
All working processes, technical and commercial, are characterised by a strong customer focus, with the aim of achieving full customer satisfaction.
In particular, the company has:
Identified the processes needed for its Quality Management System and their application, sequence and interaction.
Defined criteria for the effectiveness of the processes and related controls through the drafting of the quality system manual and procedures;
Ensured the availability of human resources to implement and monitor the processes defined by the organizational chart;
Ensured the availability of information needed to implement and monitor processes through the distribution of the Quality Management System documentation and staff training;
Implemented monitoring, measurement and analysis processes;
Implemented all appropriate actions to achieve the continuous improvement of processes and products, resulting from monitoring and management reviews.
The company projects, whether related to external or internal assignments, are managed according to codified quality plans. The plan divides the project into actions, assigns responsibilities, undertakes specific tests and quality checks. It also necessitates that they should be executed in time and that the results meet the specified requirements.
Through the quality plan, Techne Consulting monitors in real time the entire lifecycle of the project and the whole process of product implementation. In particular, the preliminary planning activities and the reviews meetings allow to reduce risks and the most critical aspects of each project.
The monitoring of the projects is carried out through a web application for the projects management.